Speaking to MPs, Mr Johnson said his government would throw itself into Brexit negotiations with energy.
He also assured EU citizens living in the UK they would have "absolute certainty" of their right to live and remain in the country.
On Brexit, he told MPs, minister Michael Gove would make planning for a no-deal Brexit a "top priority".
Despite emphasising the importance of preparing for a no deal, Mr Johnson said he would "much prefer" to leave the EU with a deal and added that he will work "flat out to make it happen".
However he told MPs the withdrawal agreement – negotiated by Theresa May with the EU – was "unacceptable to this Parliament and to this country".
One of the controversial parts of the withdrawal agreement is the Northern Ireland backstop – a mechanism to avoid physical checks on the border between Northern Ireland and the Republic of Ireland.
Mr Johnson said other arrangements for the backstop were "perfectly compatible" with the Good Friday Agreement.
On immigration, he told MPs he wanted to change the system and would be asking the Migration Advisory Committee to come up with new proposals.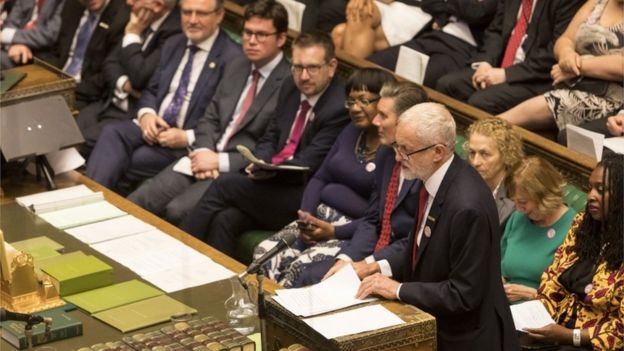 Labour leader Jeremy Corbyn responded to the statement saying: "The country is deeply worried the new prime minister overestimates himself.
"People do not trust this prime minister to make the right choices for the majority of the people in this country when he's also promising tax giveaways to the richest of big business – his own party's funders," he said referring to a tax policy Mr Johnson proposed during the leadership campaign.
He also asked Mr Johnson to rule out "once and for all that our NHS is not going to be part of any trade deal with President Trump and the US".
The new PM replied that "under no circumstances would we agree to any free-trade deal that put the NHS on the table."
On Thursday, Mr Johnson addressed his cabinet for the first time as prime minister.
He told the cabinet they had "a momentous task ahead", as he repeated his commitment for the UK to leave the EU on 31 October.
What did Mr Johnson tell Cabinet?
Speaking to his cabinet Mr Johnson said: "As you all know we have a momentous task ahead of us, at a pivotal moment in our country's history.
"We are now committed, all of us, to leaving the European Union on October 31 or indeed earlier – no ifs, no buts.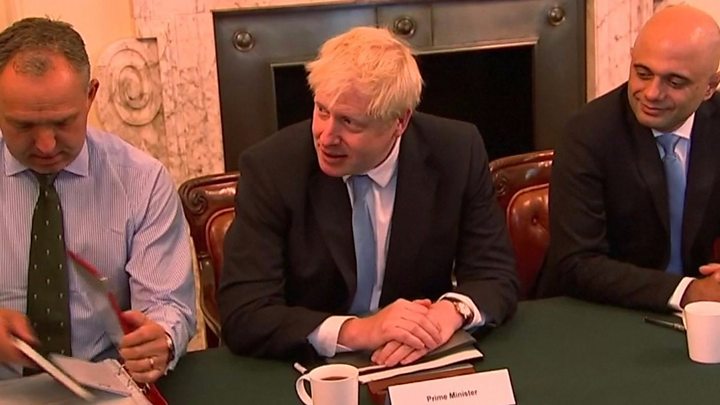 "But we are not going to wait until October 31 to get on with a fantastic new agenda for our country, and that means delivering the priorities of the people."
He also told the room it was "wonderful to see this new team assembled here" which respects the "depth and breadth of talent in our extraordinary party".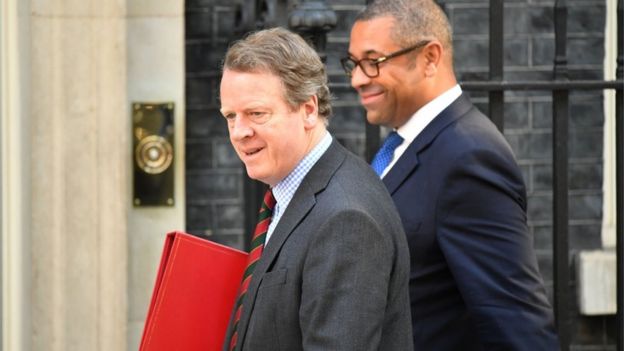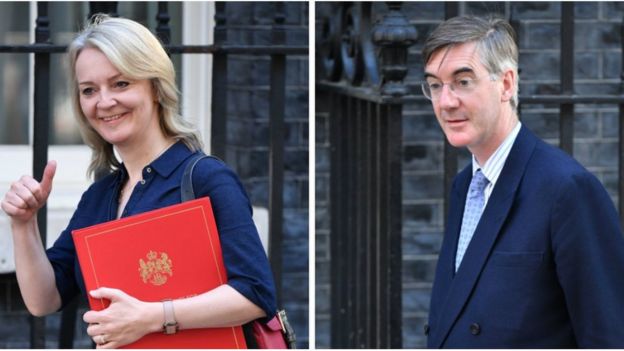 Who is in Cabinet?
On Wednesday, Mr Johnson gave key roles to leading Brexiteers. The appointments saw Sajid Javid as chancellor, and Dominic Raab and Priti Patel return to government.
Mr Raab was made foreign secretary and Ms Patel is home secretary.
More than half of Theresa May's old cabinet, including leadership rival Jeremy Hunt, quit or were sacked.
Other key appointments included:
Stephen Barclay: Brexit secretary (retains post)
Michael Gove: Chancellor of the Duchy of Lancaster, and no-deal Brexit planning
Ben Wallace: Defence secretary
Liz Truss: International trade secretary
Matt Hancock: Health secretary (retains post)
Gavin Williamson: Education secretary
Nicky Morgan: Culture secretary
Andrea Leadsom: Business secretary
Amber Rudd: Work and pensions secretary (retains post)
Jacob Rees-Mogg: Leader of the Commons
See the full cabinet here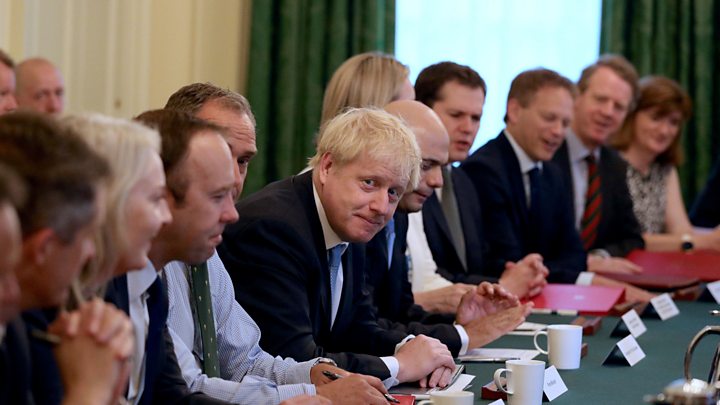 Following his appointment as Leader of the House, Jacob Rees-Mogg, who led the pro-Brexit Tory European Research Group (ERG), denied there had been a "Leave" takeover of the cabinet.
"Boris is bringing the country together, the party together, through his cabinet appointments," he said.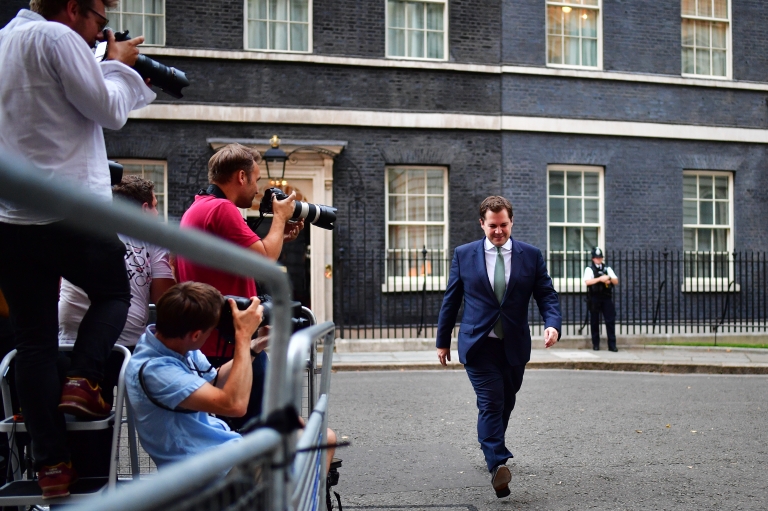 The cabinet in numbers
31ministers entitled to attend – up from 29 under Theresa May
48average age – down from 51
26%female – down from 31%
12Leave supporters (in 2016) – up from six
And who lost out?
Mr Johnson's new cabinet saw 17 of Mrs May's former senior ministers being axed or stepping down.
Former Foreign Secretary Jeremy Hunt said he had been offered an alternative role but had turned it down, while leading Brexiteers Penny Mordaunt and Liam Fox were also replaced as defence secretary and international trade secretary respectively.
Both supported Mr Hunt in the Tory leadership contest.
'A prime minister in a hurry'
These are the decisions of a prime minister in a hurry.
One who is aware that he's up against the clock.
One who has to pull off – within a few months – what his predecessor could not manage over years.
The team surrounding Boris Johnson has been put together with one goal in mind – to help him keep the promise he's made, to see the country leave the European Union in good time.
Number 10 believes it shows strength of purpose – a new administration determined and willing to take decisions after years of drift and disappointment.
Brexit believers have the top roles. But it is not a cabinet made up purely of the most burning Eurosceptics.
What has been the response?
Labour's shadow chancellor John McDonnell said if Mr Johnson campaigned on the platform of a no-deal Brexit in any forthcoming general election, his own party would "almost certainly be Remain".
However, he told ITV that Labour would still look at any new deal Mr Johnson negotiated with the EU.
"But at the moment I can't see him stitching up a deal that's acceptable either to Labour or to quite a bit of his own side as well – so it looks as though we will then be in a straight situation between a no deal and Remain," he added.
Meanwhile, First Minister Nicola Sturgeon has written to the new prime ministerto say it is "essential" Scotland has an alternative option to his Brexit plan – and to indicate she would continue to press for a referendum on Scottish independence.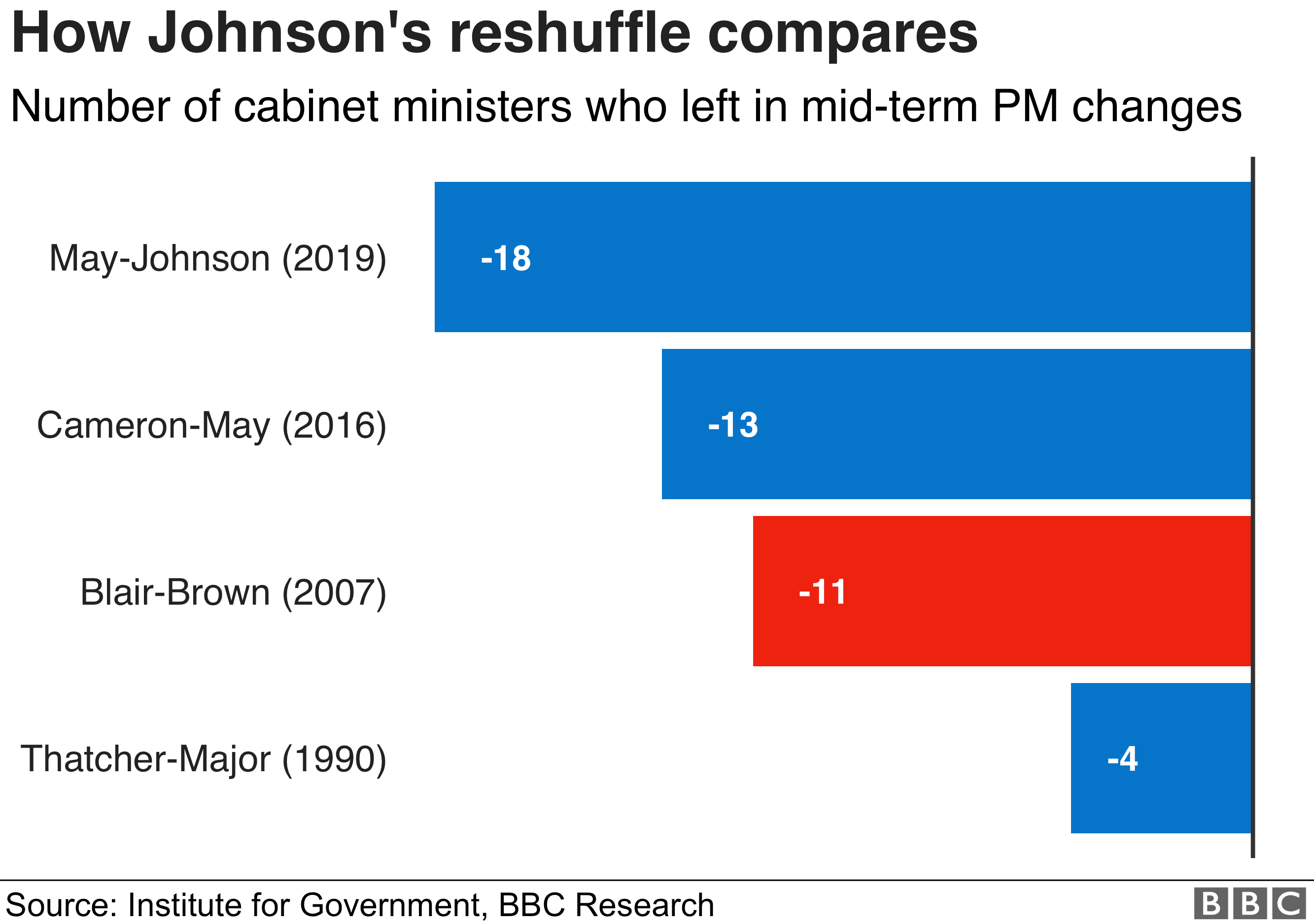 Independent MP Nick Boles – who resigned the Conservative whip – criticised the cabinet appointments arguing that "the Conservative Party has now been fully taken over top to bottom by the hard right."
"The few elements remaining of the liberal one-nation Conservative style are neutered captives in this cabinet," he said.
Lib Dem leader Jo Swinson has tabled an early day motion expressing a lack of confidence in the prime minister.
An early election could happen if the government loses a no-confidence vote.
However, motions such as the one Ms Swinson has laid down are rarely debated and generally used only as a way of drawing attention to an issue.